Every entrepreneur has a few eCommerce tools that they use to help them build their business. Whether it's simple tools like Google Sheets or highly-specialized software to guide operations, we all have something. The simpler tools work well enough for our purposes in the beginning. But as a business grows, the need for expert tools will inevitably emerge.
If you want to get operations under better control, you will need eCommerce tools that understand the different tasks and processes. Dedicated tools are specifically designed to help business owners automate daily assignments and streamline procedures. They are indispensable to the entrepreneur who wants to scale quickly and effectively.
What eCommerce tools should you be using to help you run your store?
This is the question that troubles any business owner who has tried to do a simple web search. So many different eCommerce tools exist that it's difficult to know which ones are truly essential.
Since every business is unique and every entrepreneur has distinct preferences, identifying the single best ones is not practical. You could be on Magento or WordPress or Shopify or Amazon. These platforms all have their own specialized eCommerce tools. The list would be too long to be worth your time.
We can, however, pinpoint the areas of business that can most greatly benefit from the use of eCommerce tools, and name a few that have good features. No matter which platform you are using for your store, these are 5 eCommerce tools that you should be using:
(1) Product Sourcing Tools
Do you remember what it was like back when you were hunting for your first product to sell? You probably spent long hours and weeks searching away on the internet and poring over catalogs and emailing suppliers from around the country and world. It was a great exercise that no entrepreneur should skip, but it doesn't have to be this way all the time.
Use an eCommerce tool like the ones below to help you consistently identify new products to sell as you expand your offerings.
This is an awesome web app with an Amazon Product Database. Use it to help you find profitable products with product size, sales, number of reviews, and other features. JungleScout also has a Product Tracker that monitors factors like the competition's pricing, profit margins, and inventory. Here's their product database demo:
If you are looking for new products directly on Amazon, Rev Seller calculates potential profits for you. It's a Chrome Extension that renders the calculator right on your screen for easy access. Probably the best feature is that it automatically imports the seller price so you don't have to type it in manually. A real time-saver! RevSeller also allows you to check if you are eligible to sell the product with one click.
RevSeller has a 30-day free trial so you can test it out, and is $99 annually after that.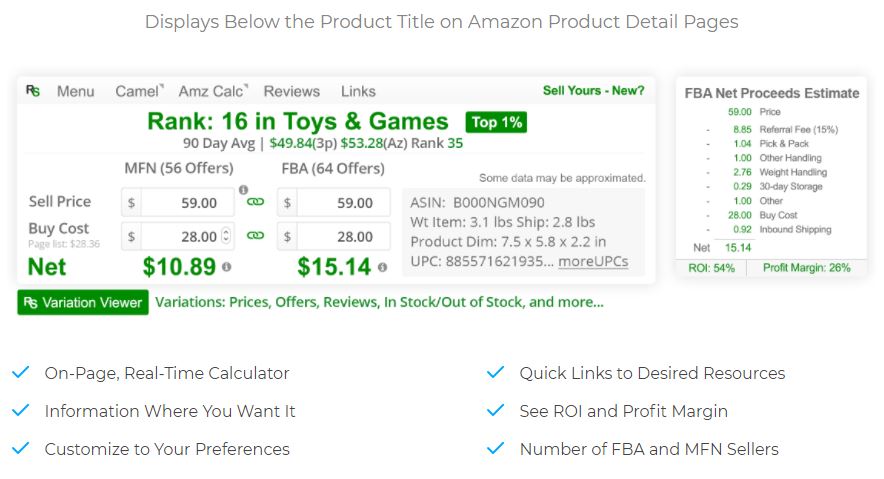 If you're doing online arbitrage for Amazon, Keepa, Traktor or CamelCamelCamel, Scanalyze is a great eCommerce tool. Also a Chrome extension, it gives you one-click access to pre-populated buy and sell price data. By entering a sale price and cost, Scanalyze dynamically calculates what you can expect in terms of Amazon FBA fees, net profit, ROI, and margins. It also gives you the buy box price, FBA offers, MF offers, used offers, sales rank, category, size and weight of the product. Additionally, price history is available on Keepa.

(2) Inventory Management Tools
Keeping track of inventory can be one of the most time-consuming tasks because it has to be done regularly. Skipping this can lead to stock-outs that will skew your profits and discourage customers from returning to your store.
Use an eCommerce tool for inventory management to stay organized and up to date on every product on your store.
It's free to sign up for Zoho and you get 20 online orders, shipping labels and shipment tracking per month for one warehouse on the free Zoho Inventory package. You can also expand to up to a 3000-order package or pay $5 to add 50 orders and shipping labels.
Zoho Inventory is a feature-packed multi-channel inventory management system that integrates with Amazon, eBay, Shopify and Etsy, as well as G Suite, Paypal and Stripe. It also works for offline orders so you can keep everything in one place. In addition, you can create purchase orders, backorders and drop shipments from the same application. Inventory tracking, transaction history, shipping integration, and warehouse management are also included. Zoho even offers $99 two-day workshops where you can learn from product experts how to use Zoho Inventory more effectively.
Get an overview of these features from their video:
Skubana is a popular piece of software for multi-channel fulfillment and ERP. It was specially designed by Amazon Top 250 sellers and Shopify Plus's largest merchants to cater to high-volume merchants. It can handle thousands of orders per day. Skubana is a lot of tools all rolled into one so you can automate repetitive tasks, monitor profitability, do forecasting, and plan for demand.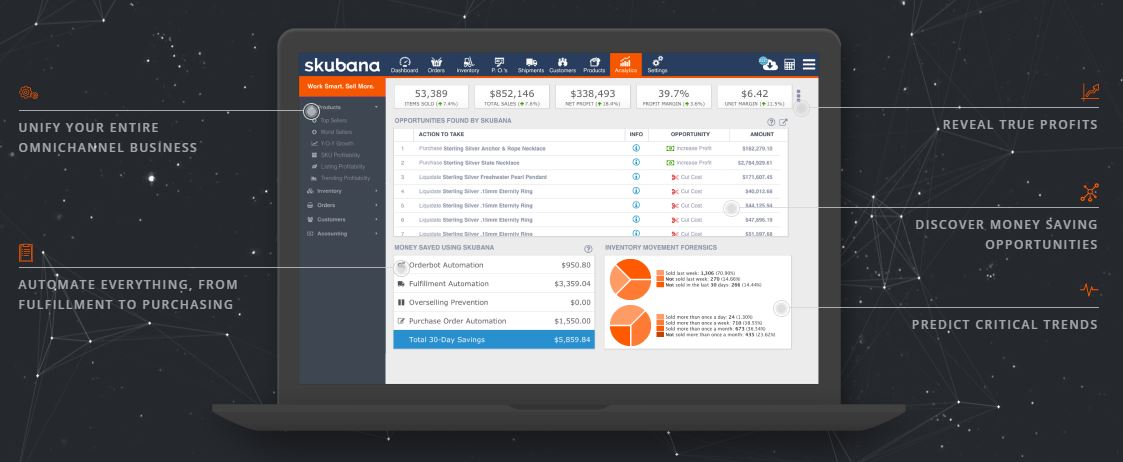 Some of the OMS's features include in-house shipping, cross-docking, dropship/3PL routing, Amazon multi-channel fulfillment, multi-channel inventory visibility, warehouse and Amazon distribution center control, and resource planning. Skubana also offers comprehensive SKU-level profitability reports, cost alerts, and trend analytics, on top of being a customizable platform with a vast App Store ecosystem to extend its functionality.
(3) Sales Tools
Sales is a major area of your business that you don't want to leave up to chance. You might be tempted to focus all your energies here, but then the other important areas would suffer. You can't have that since all the parts work together to produce results.
Use an eCommerce tool to help you manage sales so you can offer upsells, exit intent discounts, and all that jazzy stuff that customers love.
If you're on Shopify, you can use this interactive exit intent pop-up tool. Wheelio really packs a punch for direct sales as it works to boost your conversion rate with coupons and discounts. It works on mobile and desktop for exit intent, time on site, and TAB trigger and placement, and it's language-customizable to suit your target location.
What's unique about this tool is that it personalizes the experience to make your customer feel special. Wheelio was built off of the popular concept of gamification. This tool doesn't give you those old, boring exit pop-ups that most people ignore because they're just so annoying. Wheelio turns pop-ups that offer useless coupons into can't-miss opportunities by making it fun. Gamification encourages customer interaction by engaging the senses and giving them an opportunity to win a discount. Instead of just blandly handing out coupons to anyone for free, customers value the offer more because the element of risk is added. They could lose the chance to win if they don't participate.
Wheelio offers a 7-day free trail on its basic and PRO versions. The standard app is $14.92 per month and PRO goes for $54.92. Wheelio Pro comes with a lot of additional features such as the recently introduced email validation and niche segmentation, campaign-specific duplicate prevention, advanced campaign analytics, and custom fields. Test Wheelio live on the test Shopify store or watch their demo video:
If your store is on WordPress or any other site using WooCommerce, Beeketing could be the sales-driven tool for you. It is an automated marketing jetpack suite that seamlessly integrates with WooCommerce.
This plugin packs powerful features to boost sales through increasing average order values, preventing cart abandonment, and optimizing conversion rates. It includes upsell and cross-sell pop-ups with discounts to promote value deals. Beeketing also employs gamification to establish an order value threshold and encourage customers to increase their spend to win the discount on total cart value.
One great feature of Beeketing is the recommendations that allow you to create custom offers for certain products based on customer interest and behavior on your store. The incentive offers like discounts or free shipping or gifts for social sharing is also a great feature that reduces cart abandonment and brings in more visitors to boot. You can even do email marketing and Facebook chat right from your website with this one plugin, plus you get free support and updates. Check out their video to see how it works:
(4) Customer Service Tools
You need to build and maintain engagement with your customers if you want to scale your business. Consistent engagement helps to build your brand following and keep your customers happy. Happy customers who become fans of your brand will buy more and bring others to your store.
Use an eCommerce tool to help you manage customer service so you can be there for your customers when and where they need you.
Kalviyo is a data-driven tool that makes targeting and personalizing email and Facebook campaigns easy. Email and Facebook are two of the biggest ways to reach out to customers these days. More than just getting them to your store, you need to make them feel welcome and important. Kalviyo offers workflow automation so you can get to each and every customer concern. Over an above the usual communications, this tool begs a personalized response from you for abandoned carts, repeat purchases, and other customer actions on your store.
Offering your customers a tailored experience has become essential in the highly competitive online marketplace. Klaviyo makes communications relevant so you're not just sending out form trigger emails that are going to be perceived as junk.
Klaviyo integrates with Amazon, BigCommerce, Shopify, Magento, WooCommerce, OpenCart, Salesforce, and even custom platforms as well as Stripe, Facebook and Wufoo. You can try it for free for use with up to 250 contacts and 500 email sends, and even get a walkthrough / consultation when you sign up to help you get to know how it all works. The plan increases to $25 for 250-500 contacts with unlimited emailing, and at $25 increments after that with your contact limit increasing to 500, 1000, and so on.
Zendesk support is a simple customer support system that includes powerful tracking and prioritizing features. It's a great tool for larger stores so you can keep all your customer communications organized and not miss anything.
Zendesk is one of the better-known customer service tools. It's been around for a while, and has developed to provide responsive and personalized support on various sales channels. This enables you to keep everything in one place yet reach out to your customers in the way that suits them best. The data gathering, collaboration and automation features of this tool all contribute to making customer service agents more productive. Zendesk also takes some of the load off by leading customers through self-service setups to find the answers they need more easily, no matter where they are.
Visit their website to schedule a live product demo so you can get a real feel for what it's like to use the products included in the system, or watch this video from the "See how it works" button on their website:
(5) Outsourcing Tools
With the help of specialized eCommerce tools, your business should scale faster. When this happens, you will notice that you are starting to grow beyond the capabilities of your founding team. This is where outsourcing comes in as a valuable tool for your eCommerce business.
Being internet based already, you are in the best position to hire remote freelancers to help you run your store. You have the ins and outs of online communication down, and can quickly and easily integrate remote workers to perform seamlessly within this structure. They are also going to fit right in, being used to conducting their daily work activities 100% online.
You may not be completely confident that hiring remote workers is the best decision. You may have heard some hiring horror stories and want to stay as far away from it as possible. You'll realize that it's honestly not really like that at all once you get past the initial bad first impression. It also helps a lot if you have a good platform to work with where you can get access to pre-vetted freelancers who have proven their worth. One such place is the FreeeUp marketplace, where you can find a wide range of freelancers with a lot of specialized eCommerce skills to offer your business.
Check out their video on how you can hire the top 1% of online freelancers:
Whether you need help in the area of product sourcing, inventory management, sales, customer service, or just need a few extra hands, these eCommerce tools can go long way to making life easier for you. Use them so you can manage your time better and really focus on the things that need you the most.