Ready to learn some content marketing?
My name is Connor Gillivan. I'm a serial entrepreneur, SEO, marketer, and investor.
In this article, I want to share my content marketing strategy…The Content Machine.
This is a content strategy I've been using for the past 10 years while scaling all of my companies: FreeUp (acquired in 2019), Outsource School (6 figures annually), EcomBalance (6 figures in 1 year), AccountsBalance (6 figures in 1 year), and this site, ConnorGillivan.com.
Allow me to explain…
The Content Machine, in its simplest form, is a content marketing strategy aimed at consistent creation and publishing of content targeted at high opportunity SEO keywords.
Sounds simple enough, right?
Here's the inputs you need:
Keyword research
Skyscraper method
Content planning
Post and page templates
Bad a** team of writers
Editing
SEO optimization
And here's the outputs that you can get from the machine:
Partner Spotlights
Client Spotlights
Keyword pages
Keyword articles
Keyword guest posts
Keyword guest articles
Partner expert series
Keyword videos
Keyword podcast eps
Podcast interviews
How the Content Machine Works
Think of content built for specific target keywords that relate to your business.
The Content Machine builds and publishes all of these valuable pieces of content at a high frequency.
Think 10-60+ new pieces of content every single month.
That's 10-120+ keywords that you're targeting and hitting every single month.
You do that for 12, 24, 48 months and your site is hitting 1,000s of keywords where your customers are looking for answers.
When you hit that many keywords, it leads to search traffic from Google and other search engines.
Over time, you can build your organic search traffic to thousands of visitors to your site every month.
Those visitors turn into leads and eventually paying customers for your business.
All you have to do is set up The Content Machine, get it out to the masses with The Distribution Highway, and then repurpose all of it with the Repurpose Recycle Plant so it keeps reaching more and more people.
With the right systems and people, The Content Machine can become a major asset to your company driving thousands of new potential customers to your website.
If you've ever wanted to grow your search traffic, this is a solution. 
How Much Does It Cost to Run The Content Machine?
The Content Machine can be implemented on different scales of intensity.
Think of it like a chart where the more you invest in high quality content creation faster, the more search traffic you'll receive.
Similarly, the slower you create content, the less search traffic you'll get.
The Content Machine Growth Chart 
Level #1: 1 SEO content piece published per week = 4 per month. Slower and less results.
Level #2: 2-5 SEO pieces published per week = 8 to 20 per month. Mid level with faster and more significant results.
Level #3: 5-10+ SEO pieces published per week = 20 to 40 per month. High level with fastest and most quantity of results.
Cost Per Level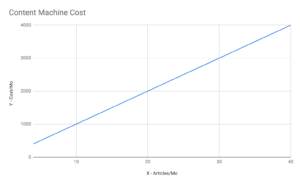 For the costs per level, we'll assume an average rate for a 1,500 to 2,000 word count article at $100 per article.
This is the rate you could expect to pay a strong Writer with knowledge in your area of expertise if you are to hire them on your own.
Level #1: 4 articles per month @ $100 per article = $400 per month investment
Level #2: 8 to 20 articles per month @ $100 per article = $800 to $2,000 per month investment
Level #3: 20 to 40 articles per month @ $100 per article = $2,000 to $4,000 per month investment
Note: There are ways that you can lower these costs if you are: 
(a) Doing some of the writing and content creation yourself
(b) Allow partners and outside writers to Guest Post on your blog. Hence, they complete the writing.
(c) Create content pieces where partners fill out the majority of the content and you simply publish it.
(d) Hire high quality Writers in countries like the Philippines where rates per article are lower than $100 per article.
Important: These prices are also based on you doing all of the Inputs work yourself. 
If you decide to hire a Content Marketing or SEO firm to build this out for you, it could cost 1.5 to 2x the costs listed above.
Now that you understand the fundamental concept of The Content Machine, let's dive into each component.
The Content Machine Inputs & Processes

In order to make The Content Machine work, you need to set up and implement the right inputs on a consistent basis.
Let's dive into each one…
1. Keyword research
Keyword research is the process of finding keywords to target as you create content for your company.
This is the first step in The Content Machine process. If you don't know what keywords to target with your content creation, it makes it a LOT harder to optimize your content for SEO.
Keyword research sets you and your writing team up for success so that every single piece that you create is targeting specific keywords relevant and important to your business.
For my in-depth keyword research process, read this article: How To Use Google Keyword Planner For Better SEO Results (Action Guide)
In the article, I outline my exact step-by-step process for finding hundreds or thousands of important keywords to your business using Google's free Keyword Planner tool.
Once you have the keywords that you want to target, you're ready for the next input…The Skyscraper Method.
2. Skyscraper method

The Skyscraper Method was created by Brian Dean of Backlinko.
It's become a SEO staple for thousands of marketers around the world and it's one that I've taken a particular liking to over the years of testing different strategies.
You can read Brian's original article about it here: Link Building Case Study: How I Increased My Search Traffic by 110% in 14 Days
The Skyscraper Method helps you to create article or page ideas for the keywords that you want to target based on what articles and pages are currently ranking on the first page of Google for that keyword term.
The Skyscraper Method works as follows: 
You take one of your target keywords and you search it on Google.
You browse through the results on the first page paying attention to page/article title. Your goal is to see what's ranking already and what their article/page title is.
For the most popular or common article/page title, you take it to the next level with the content piece that you're going to create. For example, if you search "accounting software" in Google, you're going to see similar results of pages and articles outlining the top 5 or top 7 accounting softwares. With the Skyscraper Method, you would make your content piece next level, i.e. "The Top 20 Accounting Softwares for Small Businesses in 2022". Your goal is to make your content a notch higher.
Repeat steps 1-3 for all of your target keywords.
A lot of marketers and entrepreneurs can find the keywords they want to target, but then they get stuck thinking about what content they should create about that keyword term.
The Skyscraper Method removes that roadblock and helps you create relevant article and page titles based on what's already working on Google.
In a phrase that I love, you "steal like an artist".
You take what's already proven to be working, you improve upon it, and you put your own spin on it.
Don't try to reinvent the wheel if you can see what's already working well.
With these 2 steps, you now have a list of target keywords and article/page titles for each of them.
3. Content planning
Content Planning is the process of creating and managing a content calendar for your SEO content marketing production.
You have all of these keywords and article/page title ideas, but how do you put that into a consistent schedule where you're cranking out content each month at a pace that you want to be?
Content Planning is the answer.
Here's my Content Planning process: 
Choose a Content Planning tool to use or create a Google Sheet where you can plan your content.
If you're using a Google Sheet, set it up so it has the following columns: Date, Writer, Title, SEO Keyword, Status.
Enter in all of the keywords and article/page titles that you've come up with.
Based on how many articles/pages you want to create each month, start to plan your content for the next month. For example, if you want to publish 5 new SEO focused pieces each month, start off with 5 rows focused on your next month. Add in the SEO keywords and Titles that you completed in Steps 1 and 2 until your calendar for the next month is filled.
Finally, add the Writer who is best suited for the article and the due date that you'll assign them for each article. This will help you to see how the content creation will actually get done in the month.
Repeat this process for the following 2-3 months so that you're always 1-2 months ahead of publishing.
Content planning and getting ahead by 1-2 months will put you and your business in a position to actually execute consistently without running into periods of nothing.
Naturally, other high priority tasks and projects come up while running a business, but you don't want that to let your content suffer.
When you have a proper content planner for your content marketing, you won't have to worry about that happening.
4. Post and page templates
The next step is to create Page and Post Templates that will help you to easily assign pages/articles to your Writing team.
Page and Post Templates are templates in your WordPress site that have H1s and H2s already input, images already included, and SEO metadata already completed as well.
I personally create different Page and Post Templates based on the type of content that we produce on our blog and site.
For example, I have a template for each of the following:
Listicle articles
Guide articles
How To articles
Here's the process to create these templates: 
Go into WordPress and click on Add New Post.
Add in 7-8 H1s and H2s throughout the article
Add in 3-4 images throughout the article
Add an image to the Featured Image slot
Assign a category to the article
Add metadata in the Yoast SEO or other SEO plugin that you use in WordPress
Save the Post as a Draft
This template now lives in your Post drafts where you can easily duplicate it, set it up for each article, and then assign it to your Writing team.
Heres' the process to use a template to create an article draft: 
Open your Content Calendar and choose an article that you want to assign. Let's say that it's "What is a Profit and Loss Statement?" This would be a How To Article.
Go into your WordPress. Click on Posts. Go to Drafts. Find the How To Template that you created as a template and Duplicate it.
Go into the duplicated How To Template Post. Edit the title of the post to be "What is a Profit and Loss Statement?" Optimize the URL slug as well.
Edit the category to be the correct one.
Go down to the Yoast SEO section and add the SEO keyword that you're targeting. Edit the metadata so it aligns with the keyword and article content.
Take the SEO keyword and search it on Google. Find one of the top ranking articles on Google and go into it. Look at what the H1s and H2s are within the article for ideas for what you can make your article about.
Go back to your Post and edit the H1s and H2s so that the article hits on 7-8 relevant and important topics surrounding the SEO keyword that you're targeting with the article.
Save as Draft in WordPress and change the Author to the Writer that will be writing it for you.
This speeds up the process of assigning the article to your Writing team and it also speeds up the process of writing for the Writer because it provides them with topics to write about in the article.
They don't have to do the research…they simply create the content and input images based off of the H1s and H2s that you put into the draft for them.
Following?
5. Bad a** team of writers
Now that you have your content planned and the articles set up in Drafts in your WordPress site, it's time to assign the article to a Writer to let them create the actual content.
Your team of Writers should have knowledge and expertise in the content areas that you're focused on with your business.
For example, if your business is an online bookkeeping service, like my company EcomBalance and AccountsBalance, your Writers should have experience writing finance related articles and they should know bookkeeping and accounting related topics at a deeper level than the average person.
Makes sense, right? 
If you don't have your team of Writers yet, here's some ideas of where to find them: 
Hiring Platforms: Upwork, Fiverr, FreeUp, OnlineJobs.ph, Workello, and other online hiring sites.
Social media: Make a post and let your community make recommendations.
Direct referrals: Reach out to other entrepreneurs that you trust and ask if they have any personal recommendations.
Once you have a Writer or your team of Writers ready to start writing, you can move to this next step.
Before you actually assign the Writer an article, you want to make sure that they understand what your guidelines are for writing articles so that they are aligned with the best possible SEO guidelines.
I encourage you to put together your own SEO Guidelines for your Writing team so that they have a checklist of things to achieve with each article.
Here's an example of a SEO Guidelines Checklist for your Writers: 
Target the SEO keyword and other similar keywords throughout the article. Use Yoast SEO to make sure that you've used it enough times, but haven't used it too much.
Include at least 4-5 images throughout the post. Simply change the images that are in the template to relevant images for the post content. Use Unsplash.com for royalty free images.
Include at least 3-4 internal links.
Include at least 3-4 external links.
Use H1s, H2s, H3s, bullet points, lists, and spacing properly. Remember that people reading articles are skimming and browsing so it's important they can get the most important parts from headings, lists, and bolded items.
Limit paragraphs to 3-4 sentences. Use lots of spaces so that the article isn't huge chunks of content with little spacing. It's easier to read articles when there are lots of spaces.
Write conversationally. Imagine you're talking to someone on the street as you write and explain the topic that we're focused on. This will make it more readable for all visitors.
It's important that your Writing team is on the same page with your guidelines so that when they write and create the article, it leaves a small amount of editing and optimization for you and your team.
The goal is to assign the article and get it back 98% ready to be published with a few small edits and changes here and there.
If you are assigning articles and they are coming back only 75% ready to be published and you have to make LOTS of changes, you need to provide your Writer with feedback so they can improve and follow your guidelines more closely.
With that, you should be ready to start assigning articles.
Final thing…pick a task management software to use to assign the articles to your Writing team. 
This makes it easy for you to manage, for them to see what's on their plate, when it's due, and what stage of the Writing process that it's in.
Here's a sneak peek at how I set it up using ClickUp: 
Keep it simple and easy to manage for both you and the Writing team.
6. Editing
As your Writing team finishes articles assigned to them, they'll inform you through the Task Management software that you chose to use.
This prompts the next step in the process: Editing and SEO Optimization
Editing is the process of reading the content of the article, fixing grammar mistakes, breaking up long paragraphs, using headings, bolds, underlines, and italics properly, and overall optimizing the actual content for the reader.
SEO Optimization will be explained in the next step.
For Editing, you should either be doing it yourself or you can have someone on your team that is a great Editor and can take on the task.
This is the last set of eyes that will look at the content before it's scheduled to publish to your audience and to the Internet.
You want this last set of eyes to be high quality so that your articles and pages turn out as high quality and value as possible.
Once you're confident that the content is high quality and value, it's time to move to SEO Optimization which will ensure all other factors about the articles are optimized for what Google's looking for.
7. SEO optimization
SEO Optimization is analyzing a piece of content (article, page, post, etc) and making sure that it meets all of Google's guidelines for what makes a GREAT piece of content.
As I mentioned above, this and Editing can be done in the same step by the same person as long as they are properly trained to do so.
Here's what you should be optimizing in this step: 
Title
URL permalink
Keyword used in the first paragraph of the piece of content
Proper category
Relevant Featured Image for the page or article
Proper use of the keyword and similar keywords throughout the content
Is the content truly useful? If someone were searching for your keyword on Google, would they be happy with what they find on your piece of content?
4-5 images throughout the article nicely placed to break up text
3-4 internal links
3-4 external links
Any suggestions made by Yoast SEO or the SEO plugin that you use
Mobile optimized
Every piece of content should go through this SEO checklist.
You want your content to read well (result from editing) and to appeal to Google (SEO optimization).
Don't get lazy and skip this final step. It will hurt your content and your company's rankings on Google.
The Content Machine Outputs – What You Get Out
Now that you understand Content Machine Inputs, what do you get from them?
The beauty of this machine is that it can create many outputs that help your company's search traffic increase over time because you're publishing high quality content.
Below are the 8 direct and indirect outputs that you can get from the Content Machine running at full force.
When you're running the Content Machine, you're not only publishing your own SEO keyword focused articles, you're also finding other simple content pieces that you can whip together to rank better on Google.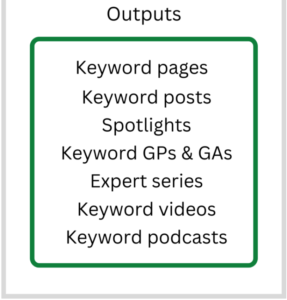 1. Keyword Pages
Keyword Pages are 1 of 2 direct Outputs from the Content Machine.
These are the SEO keyword focused pages that you create and publish on your website directly from the Inputs.
Here's some examples of Keyword Pages:
2. Keyword Posts
Keyword Posts are the 2nd direct Output from the Content Machine Inputs.
Keyword Posts are articles published on your website's blog that target specific SEO keywords that you researched and that provide valuable information to the reader.
These Keyword Posts get recognized by Google and if they're good enough content and are optimized for Google, they'll slowly start ranking for keywords related to the topic of the post.
Here are examples of Keyword Posts: 
3. Partner Spotlights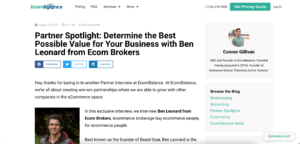 Partner Spotlights are written interviews with your Partner network that target specific SEO keywords and niches that they have expertise in.
If you're running a Partner Program, this can be a content collaboration that you offer to your partners.
It benefits them because they are able to be published on your site, they receive a backlink, and the piece gets promoted to your audience through email, social media, and whatever other channels you use to communicate with your community.
The beauty is that your partner creates the majority of the content and then you simply make it look great and optimize it for SEO on your blog.
Here are some examples of Partner Spotlights: 
Partner Spotlight: Helping People Realize Their Greatest Potential with Catherine B. Roy from LHM International
4. Client Spotlights
Client Spotlights are very similar to Partner Spotlights, but they are focused on your clients.
You can also think of these as case studies, but they can be great for high quality content creation focused on SEO keywords that will drive more traffic to your website.
Client Spotlights are 10 questions asking the client about their company, their expertise, and their experience working with your business.
If you want to level these up to the next level, you can also ask the client to create video content to go along with the Client Spotlight.
5. Keyword Guest Posts
Similar to Keyword Posts above, Keyword Guest Posts are articles focused on SEO keywords that you've researched and want to target, but that guest writers from your network create the content for.
The great thing about Keyword Guest Posts is that you don't have to create the content with your internal team. So if you have a large enough Partner network, you can tap into their expertises and build more SEO focused content on your site without the time and cost of doing it.
The benefit to your Partner network and guest authors is that they get their company and voice exposed to your audience and they receive a do follow backlink for writing the article.
For example, if you only have the budget and capacity to create 10 new articles per month with your own Writing team, but you want to put out 15 per month, you can tap into your network and aim for 5 new Keyword Guest Posts per month.
The only part about Keyword Guest Posts that you have to be aware of is the editing process once they submit the content to you. You'll want someone from your team to edit the content, add it into your WordPress backend, and optimize it for SEO.
6. Keyword Guest Articles
Keyword Guest Articles are keyword posts that you write and get published on other blogs and websites within your industry.
Similar to the Keyword Guest Posts, you get a dofollow backlink from the article and you get exposed to the network of the blog that you're writing for.
If you have a large Partner network, you can reach out to them and schedule Guest Articles for your team to write so you are consistently getting exposed to Guest Articles and targeting keywords at the same time.
The one thing to keep in mind with Keyword Guest Articles is that they cost time and money for your internal Writing team.
Depending on your budget, I recommend getting your own internal SEO Keyword Posts going first and then you can slowly add in Guest Articles once you have the budget and Writers for it.
7. Partner Expert Series
A Partner Expert Series is a video focused SEO keyword content creation strategy. You take the SEO keywords that you want to target and you have your Partner network create short form video content about the topic.
For example, let's say that you wanted to target the SEO keyword "Amazon ppc marketing".
You'd find someone in your Partner network that has an expertise within Amazon ppc marketing and you'd send them questions to answer in a short form video that you could then edit up and turn into a video on Youtube.
If you can turn this into a consistent content creation process, you then are putting out new SEO focused video content on a monthly basis and it's leading to you ranking for more keywords on Youtube and Google.
It also gives your Partner network a dofollow backlink again and it allows them to establish themselves as an expert within the industry.
8. Keyword Videos
Keyword videos are very similar to Keyword Posts, but they are in video form and you publish them on Youtube and your website.
Let's say for example that I wanted to target "content marketing strategy" as a keyword for this website.
I could make a video all about "content marketing strategy" and publish it on my Youtube channel linking back to this article.
When people search for the keyword on Google and Youtube, I will work to rank on the first page so that they see my content, view it, and then also come check out my site for more helpful marketing tips.
At volume, this can drive hundreds and thousands of visitors to your brand every month.
The Content Machine Results

When you use the Content Machine consistently for 3, 6, 9, 12+ months, you should see a consistent increase in your Search traffic.
Here's what I've seen from it while running it for 6 months at EcomBalance.
With more traffic comes more leads.
With more leads comes more paying customers.
The true beauty of the Content Machine is:
1) It's been proven to work
2) It can be run by someone else once set up
3) It is low cost, high reward
4) It compounds over time
5) It's a long term marketing solution
Final Tips for Running The Content Machine
As you get started with the Content Machine, keep these 5 tips in mind:
1. You Must Focus on High Quality and Useful Content
Don't skimp on the quality of content you're producing.
Google wants high quality content that truly answers the query visitors are searching on Google.
Skimp on your content and you'll have lots of people clicking the back button upon arriving at your site.
When Google sees that, they punish your rankings and you get less traffic.
Quality wins.
2. Don't Be Cheap When Hiring
Sure, you can find someone online that will write you articles for $25-$50 per article, but it won't be worth it in the long run.
Spend the right amount to hire a seasoned writer that truly understands your niche.
It will lead to better content, better reader experience, and a writer that you can work with for years.
Don't be cheap.
3. Don't Skip Any Steps
The Content Machine works because of each step in the system.
Try to skip steps and you're not going to get the results you want.
Make sure that you follow each one and set up the proper process for it.
Track your results, teach it to multiple people, and have someone monitoring it at all times.
4. Be Consistent Consistently
This one may be the most important.
You can't create content with the Content Machine for 2 months then pause for 3 months and come back.
This will mess up your content reputation and will slow down your search traffic growth.
Be consistent consistently and it will reward you.
5. Track Results on a Monthly Basis
You'll never know if it's working unless you track its progress.
Set up a process to track all of your key SEO and traffic metrics on a monthly basis.
Pass it off to someone on your team.
Review the results each month and make small adjustments to your plan.
You can't succeed in marketing and SEO unless you track your results, analyze, and adjust.
Conclusion
The Content Machine is a comprehensive SEO system to drive more search traffic.
You do it through creating high quality content at a high quantity for a consistent amount of time.
The Content Machine has helped me grow 6, 7, and 8 figure businesses.
I'm confident it can help you get more search traffic to your website.
It all comes down to:
High quality content
High quantity of publishing
Consistency
Have questions about implementing the Content Machine? Message me on LinkedIn or shoot me an email at Connor@ConnorGillivan.com. 
Want me to set up and run the Content Machine for your business? Message me and we can chat!