Looking for new and proven traffic generation strategies to boost the traffic to your website or blog?
I've been doing the same thing for the past 3+ years scouring the Internet for the leading marketers and SEO experts that actually know what they're talking about.
If you haven't noticed already, there's a lot of noise out there today.
Pictures in front of Lamborghinis. Courses promising an end revenue result once completed. A lot of it is a facade. And you need to be careful as you are researching traffic generation strategies.
I've fought through the research for years now and have had the amazing opportunity of being able to actually test all of the 30 traffic generation strategies that I've put together for you below.
When it comes to traffic generation and marketing in general, it's all about testing, measuring, and making a calculated decision based off how the strategy is impacting your website.
My general rule of thumb is run a new traffic generation strategy for 1-2 months measuring results using Google Analytics.
If at the end of the time, I am seeing poor results, I'll pull away and pause that specific strategy.
If it's somewhere in the middle producing decent results for the amount of energy I'm putting into it, I'll keep it going for another month so I can gather more data.
And if it's just performing extremely well, I'll find ways to replicate it and use it more for driving new traffic to my site.
Being a marketer is being someone that looks at everything as an experiment.
As I've said in past articles about traffic generation, the playbook that you eventually find is going to be different for your business than it is for others.
There will of course be some overlaps, but every business is unique and therefor it requires a unique traffic generation playbook as well.
In this article, I've put together 30 traffic generation strategies that I've tested over the past 3+ years. Not every one of them has been a massive home run for me and my company, FreeeUp.
Rather, the combination of all of them have allowed me to significantly grow my site's traffic.
As you can see below, I was able to grow FreeeUp's site traffic by by 179.02% from 342,902 sessions to 956,774 sessions.

That growth came as a result of the traffic generation strategies that I've listed below.
It's possible that you can also take a combination of these 30 strategies and turn them into your own unique marketing playbook.
It will take 3-6 months of testing and measuring results to really discover which traffic generation strategies are best for your company and website, but you can absolutely do it.
So, what do you think? Want to see these 30 traffic generation strategies?
Let's get into it.
30 Traffic Generation Strategies to Drive New Users to Your Website or Blog
What you'll find below are 30 traffic generation strategies that you can try implementing today.
These are strategies that don't require huge sums of investment or months of learning to be able to implement.
The biggest key to success when testing these traffic strategies is to make sure that you approach each as an experiment with a set time to work on it and a real method to measure the results.
My recommendation is to run each traffic experiment for 1-2 months and use Google Analytics on your site to measure the traffic that you're getting from each specific strategy.
By the end of trying all 30 of these traffic generation strategies, you should see a significant jump in your monthly site traffic and you should have a traffic playbook that you can then use going forward to grow your business or blog.
Traffic strategy #1: Answer questions on Quora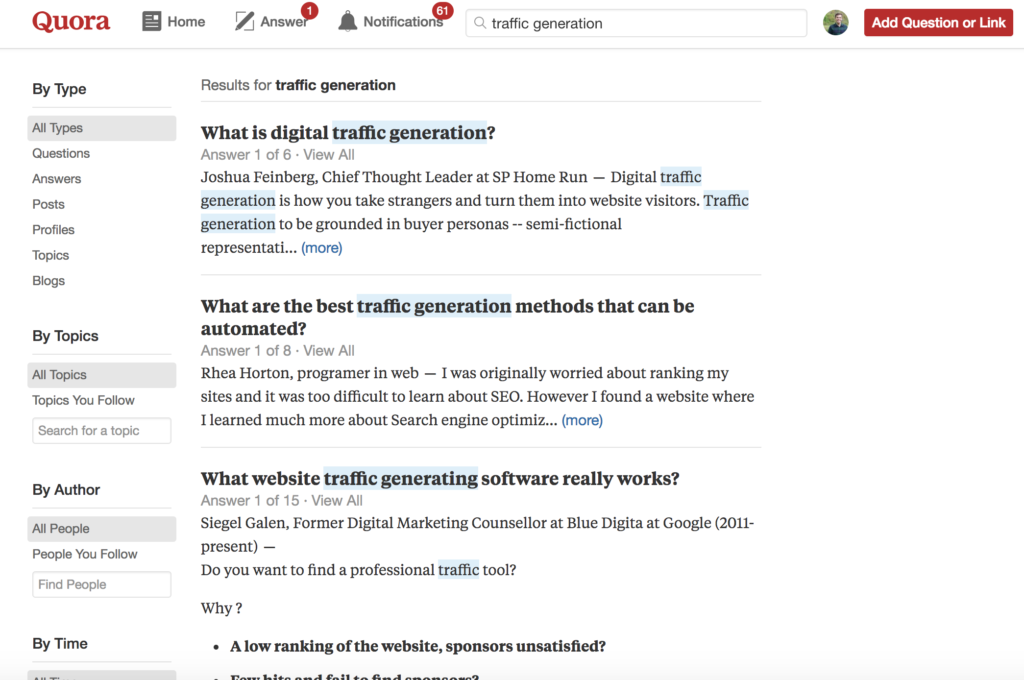 Go to Quora.com and create an account for yourself. Fix up your profile so that it speaks to your current position with your company. Make sure that you look professional on the platform.
Take 30 minutes each day, search through topics where you have expertise, and take the time to provide real answers to the people who are asking questions around your area of expertise.
When it makes sense, link out to your website or to a piece of content on your website.
Over time, you'll start getting followers through the platform, you'll start getting views on your answers, and it can then lead to traffic to your website.
Traffic strategy #2: Get involved in Facebook groups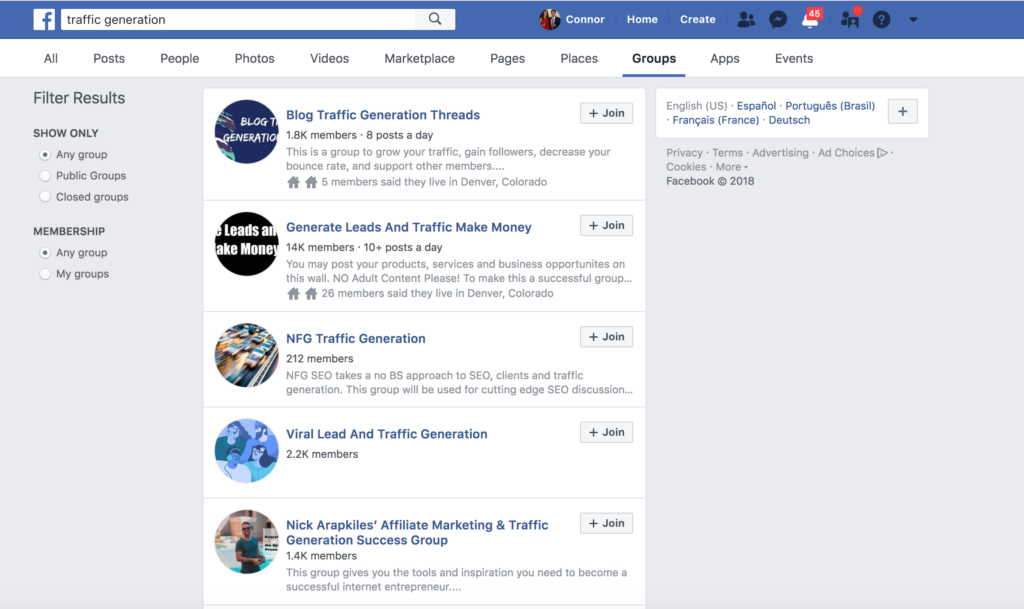 There are thousands of active Facebook groups where you can build a reputation for "high-value" and become someone that the group turns to when they need help within your area of expertise.
Go to Facebook and search for keywords within your area of expertise. Filter for only groups. Go through the results, open them up to make sure they are still active, and join the ones where it makes most sense for you.
Take 30 minutes each day and check in on the Facebook groups that you join. Answer questions from the community and even make posts on your own that add real value to the people that are in the group.
Over time, this traffic strategy can lead to people reaching out to you directly asking how they can handle a certain area of their business based off your expertise.
It can also lead to people from the groups going to your website to see how you can help them.
Bonus: You can even seek to build relationships with the Facebook group owners asking them if they would be willing to promote your business in a certain situation. This can be a big lead and traffic generation home run.
Traffic strategy #3: Start your own Facebook group
Similar to the traffic strategy above of getting involved in Facebook groups, you can also find a niche topic and become the owner of the Facebook group.
Go into Facebook, look up topics within your industry, and find one that isn't highly populated yet.
Create the group, start inviting people that you know would find value in it, and post regularly engaging the community. This will establish your personal brand as an industry leader and you will also create a new space online where you can find new clients and drive traffic to your website.
Traffic strategy #4: Build expertise within Reddit threads

Reddit is another popular platform where you can get involved as you drive new traffic to your website.
Reddit has a lot of very loyal users so you do need to be careful how you go about getting involved. You can't go spamming threads within your industry…the users will immediately notice your tactics and kick you out.
The best way is to find a few Reddit threads within your industry and just be an observer for the first week or so. Spend 30 minutes going into the threads, reading the questions and answers, and seeing what people are finding value in.
After the first week, spend 30 minutes reading, answering questions, and even making posts about your business that you want feedback on.
The more involved and engrained you become within the threads, the more traffic you'll be able to drive to your website over the long run.
Traffic strategy #5: Write guest articles for industry publications
This is a very common traffic generation strategy that you'll see almost every marketer utilizing online.
Make a list of 50+ blogs within your niche where their readers are your ideal customers.
Find the contact information for someone managing the content for that specific blog or company.
Reach out with a friendly email introducing yourself, explain the topics you have knowledge within, and ask if they would be willing to review a few guest article titles that you have in mind for their blog.
When you receive affirmative responses, send back some blog article ideas based off their current content and ask them for their guest article guidelines.
Aim to consistently get guest articles published on industry related blogs each week/month. They will build strong SEO links back to your site and will also help you reach new communities online that you didn't have access to before.
Traffic strategy #6: Build a partner network
Similar to guest articles, build a list of 50+ companies within your industry that you are NOT directly competing with, but that have a good presence and community of users.
Find the contact information for someone in charge of handling marketing and partnerships then reach out introducing yourself, explaining a bit about your company, and asking if they would be open to speaking about a potential partnership.
When you get positive responses, try to get them on a phone call or Zoom call so that you can meet them, share stories, and get to know one another a bit. A personal connection can go a long way over just an email relationship.
When talking about the partnership, suggest co-marketing activities to start…guest articles, newsletter exchanges, video content, etc.
Building out a partner network is an amazing long term traffic generation strategy because then you always have them to further tap into for more co-marketing activities.
Traffic strategy #7: Utilize a referral program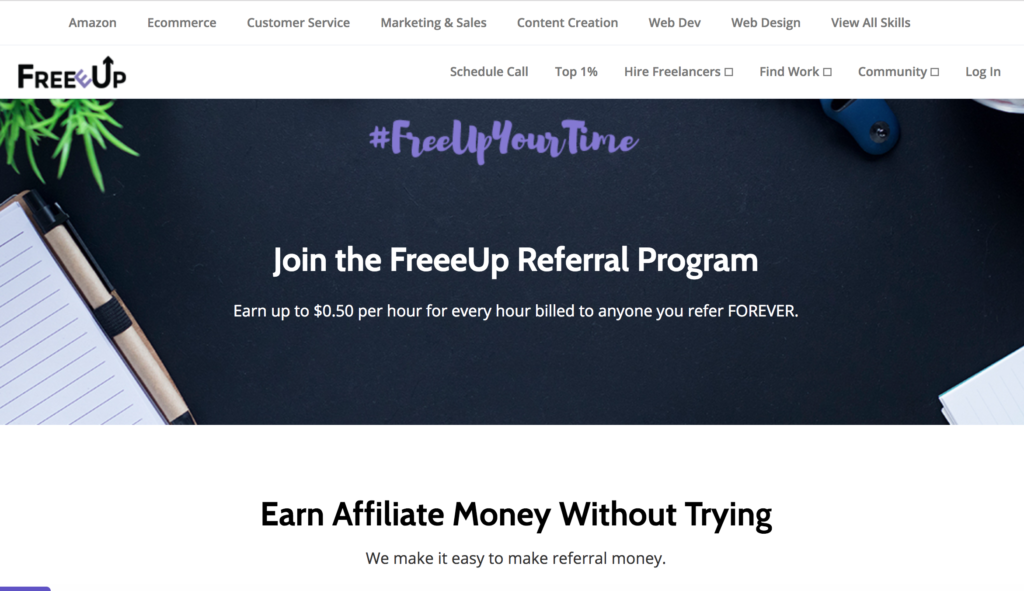 It's been said many times before that your best marketing collateral is your most loyal customers.
Once your business has a core selection of users that are loving your product or service, it's a good time to create and implement a referral program.
A referral program gives your most loyal customers the incentive and power to invite others into the community that they think would also benefit from your company's product or service.
I can't tell you how powerful this is for your word of mouth marketing. If you set up your referral program correctly from the beginning, word of mouth could become your biggest traffic generation strategy for your business.
Don't pass this traffic strategy up.
Traffic strategy #8: Get your voice heard on industry podcasts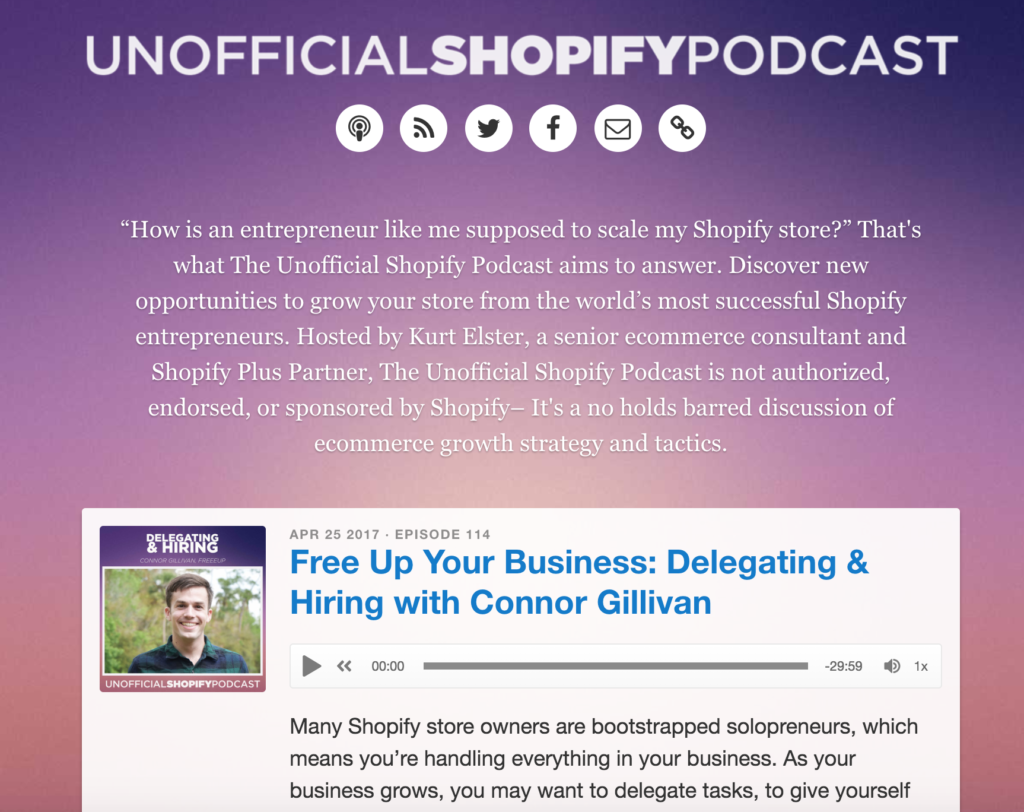 Podcasts are an amazing platform for you to share your story, talk about your business, and reach thousands of new potential customers. On top of that, it's an opportunity to further grow your partnerships and referral partners.
Find 100+ podcasts within your niche, find the information for their host, and reach out with an email that introduces yourself, shares a little about your story, explains the topics you can talk about on the show, and asks if they would be willing to have you on the show.
At first, start with smaller podcasts so you can get a few under your belt and become comfortable with the format of how they all work.
Once you feel confident in your content and story, start reaching out to some larger podcasts trying to land a spot on one of their upcoming episodes.
As you get your voice published on podcasts, you reach thousands of new potential customers and you drive new traffic to your website that have a sense of who you are and what your company is all about.
Traffic strategy #9: Run your own niche podcast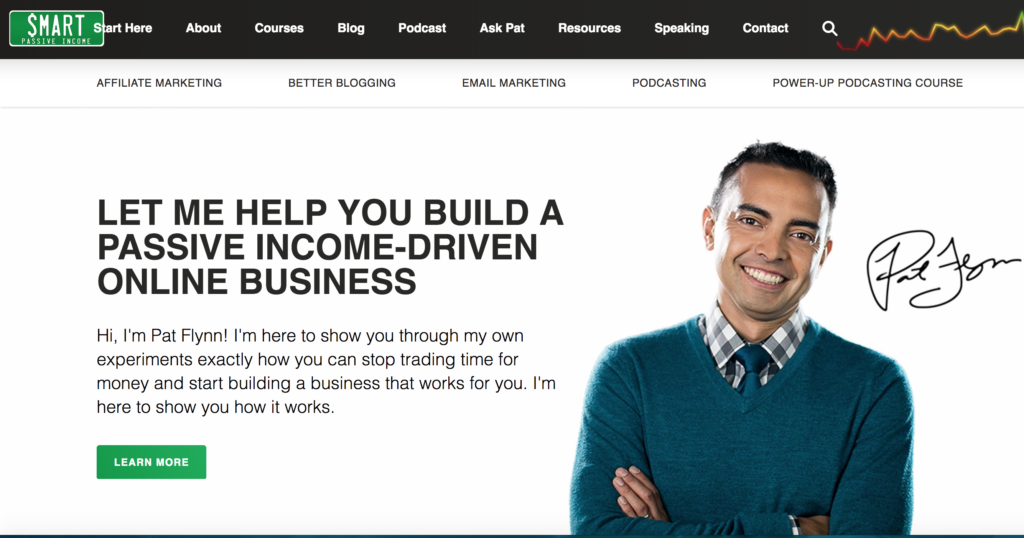 If you're a charismatic entrepreneur and love the spotlight, starting and running your own podcast can be an amazing way to drive more traffic to your website.
Pick a niche within your industry that you can focus on, build out the operations of the entire podcast, then get it off the ground.
A great strategy for starting your own podcast is to invite other entrepreneurs to be interviewed on your podcast. This creates new relationships for your with other business owners then it also gives you access to their community when they promote the podcast out to their audience. It's a win, win.
Traffic strategy #10: Dominate long tail SEO keywords
Generating organic search traffic is a very important aspect of your traffic generation playbook. It takes more time to see results, but it's a critical part of your traffic growth.
The secret to generating solid traffic from search engines like Google is focusing on long tail SEO keywords.
Here's an example. If you're writing a new article about traffic generation, it would benefit you more to focus on the keyword "traffic generation marketing" than just "traffic generation."
Reason being is that the competition on "traffic generation marketing" is much lower than the main keyword, but it still has good monthly search traffic that could become a source of traffic to your website.
As you get into SEO keyword planning and research, it's best practice to try to dominate the long tail keywords first. You'll find opportunities where you can go after the more popular keywords, but give it time. Start with the low hanging fruit first.
Traffic strategy #11: Write ultimate guides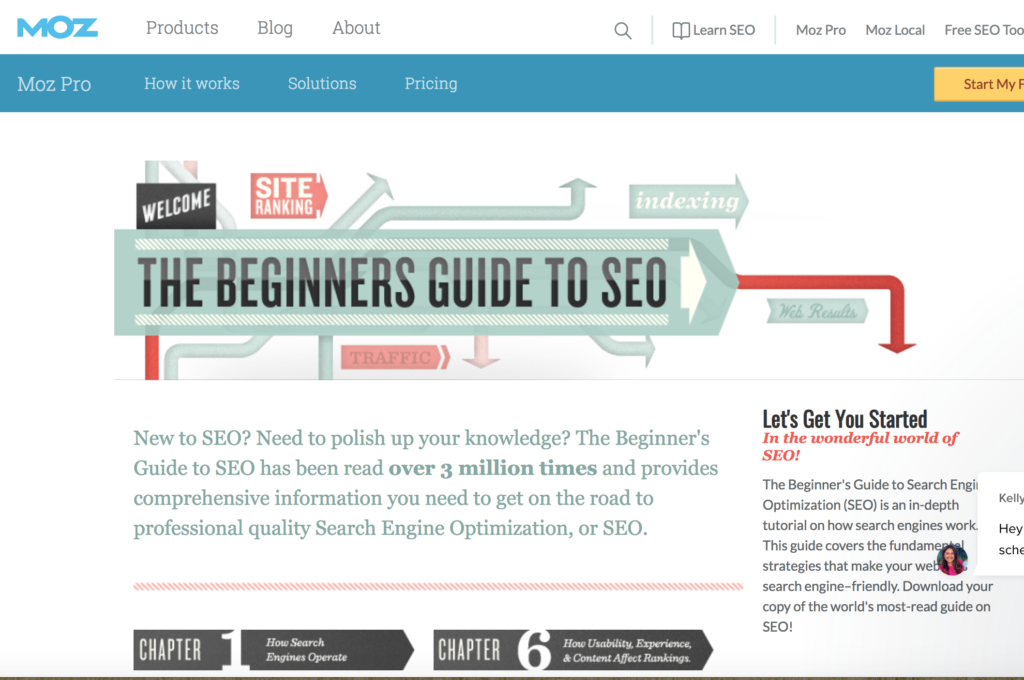 As you create content for your website and target market, ultimate guides can be amazing pieces that drive a lot of traffic to your website.
The key to making these ultimate guides popular is finding ones that haven't been created yet or that don't have a lot of competition.
For example, my company, FreeeUp, is a freelance marketplace that helps business owners find and hire reliable freelance talent.
Now, it may be hard for me to create an ultimate guide about hiring because it's such a general topic and has been dominated by larger companies for years in the past.
However, I may be able to create the "Ultimate Guide to Hiring Facebook Advertising Experts." By niching down, I find that there is less competition for this specific guide, but that there is also people still looking for advice on how to do it.
Once you have an ultimate guide, you can promote it on social media, through email, and send it out to your partners asking if they'd be willing to share it.
Over time, your ultimate guides can become a consistent and high-value source of traffic for your website.
Traffic strategy #12: Create and promote case studies
Similar to ultimate guides, creating real case studies based off your customer's experience can be extremely powerful.
Once you have a customer that you're comfortable asking, reach out and see if they would be willing to spend 30 minutes on the phone with you talking about their experience thus far. Be upfront that you'll be using it as marketing material for the company.
Once you have the case study published, make sure to share it with your current customers allowing them to share it with others as they get involved with your referral program.
Potential customers want to trust that you've provided a positive experience for other people. Case studies help you to build that initial trust.
Traffic strategy #13: Get your name included in already published articles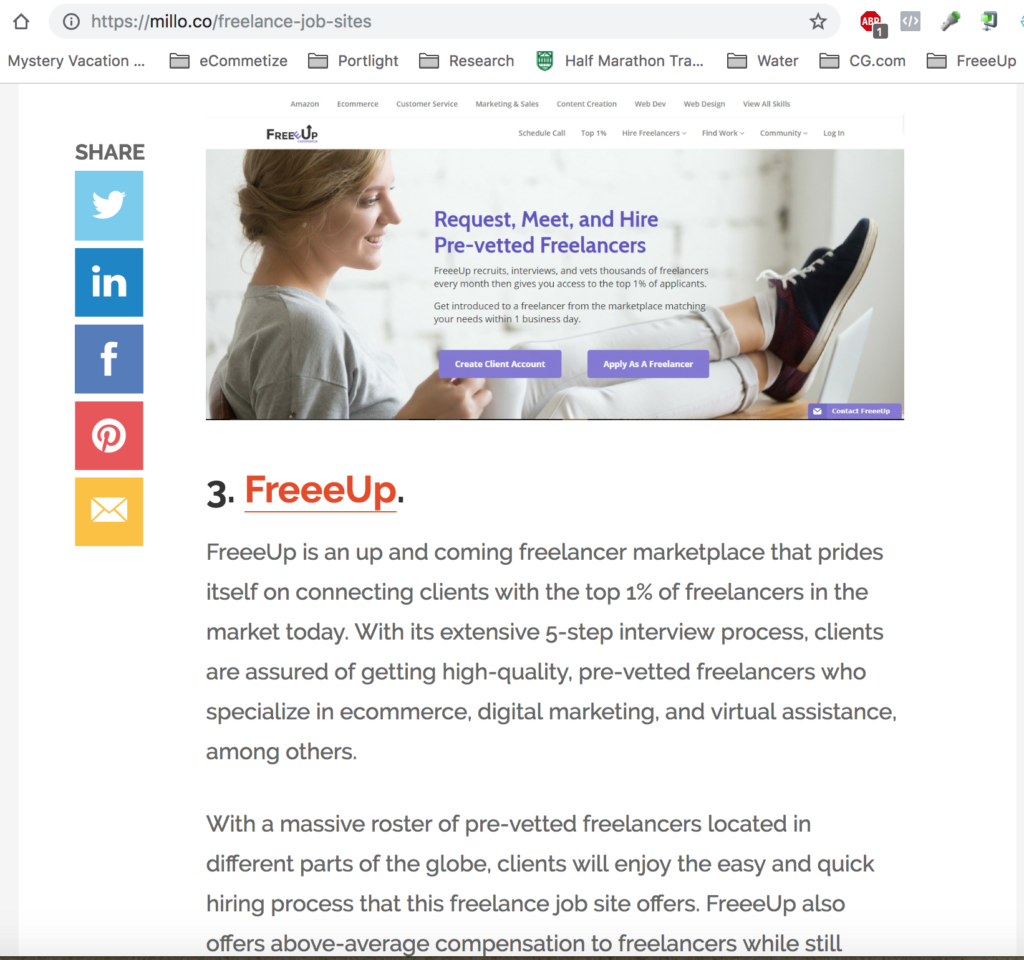 There are millions of popular articles published all over the Internet and within your niche market as well.
Some of the best articles have lots of backlinks pointing back to them giving them a higher page authority than articles with less backlinks and social proof.
A great traffic generation strategy is to find these types of articles where it makes sense that your company would also be listed or you would be included.
Then you find the site's marketing department and reach out to them introducing yourself and asking if they would be willing to add you to their article the next time they update it.
In return, you can offer to share it on social media when they make the change to drive more traffic to the article.
If you can create a consistent process of reaching out to these sites, you'll see outstanding long term results on your SEO site ranking.
Traffic strategy #14: Comment on popular blog articles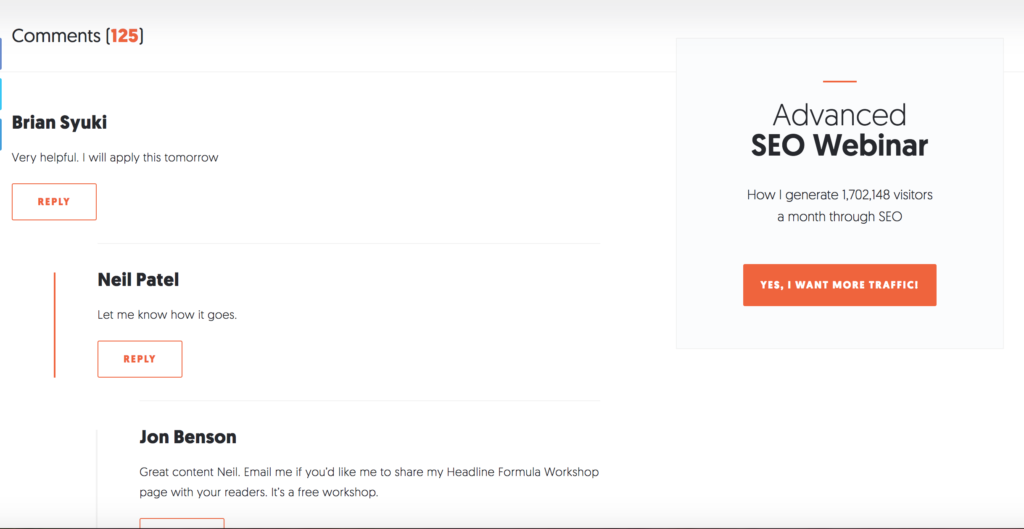 Comments are a great place to get involved in conversations with other readers and the author of the article. It can lead to new relationships that can further help your company.
Create a list of 15-20 blogs that you really like within your industry.
Spend 30 minutes each day going through their new content and seeing if there are any articles where you could ask a good question or leave even more valuable content for the people reading the article.
Over time, you can reach out to the owner of the blog to create a relationship and it could even lead to a guest article opportunity.
When people see someone leaving high value content in comments, they may then take the time to go to your profile and check out what your deal is.
This can drive new visitors to your site.
Traffic strategy #15: Establish expertise within LinkedIn groups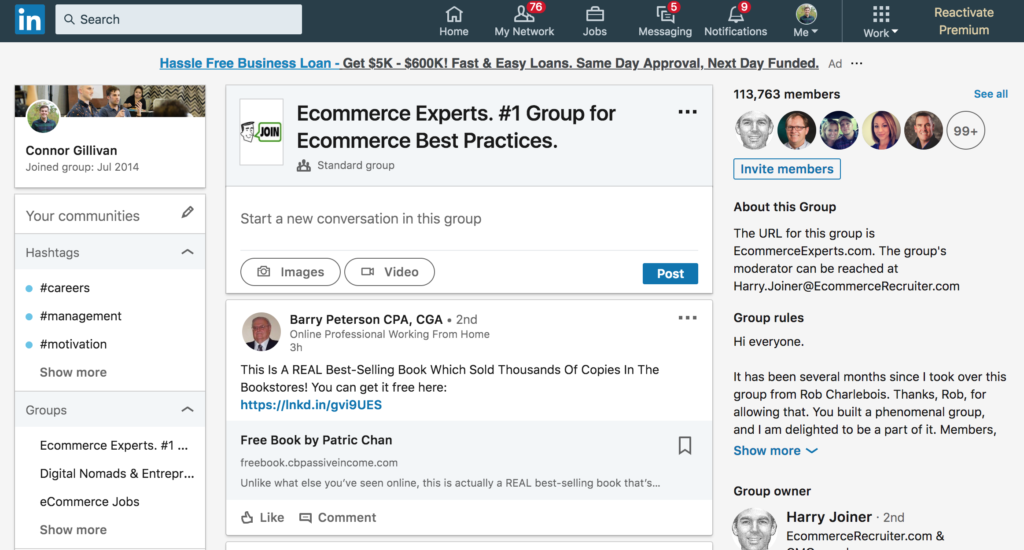 Go to your LinkedIn account and first make sure that it's ready for other people to be looking at it.
What I mean by that is to make sure you have a professional picture on your profile. Make sure it's very clear who you are in the first few lines of your profile so that people can quickly understand how you may be able to help them.
Make sure to have all of your work history updated.
And if you can, get 5-10 reviews from people that you've worked with in the past.
Once you have this all set, search and put together a list of 25 LinkedIn groups that focus on your industry…where your ideal customers may be visiting.
Spend 30 minutes each day going into the groups, looking at the new content, commenting anywhere it makes sense, and also creating your own posts sharing advice or sharing relevant articles that other group members would like.
Over time, reach out to the other people in the group and see if you can connect and network.
Same goes for the owner of the group so you can see if there are any partnership opportunities.
Your activity in the group will drive new traffic to your website and could lead to good partnerships and new customers.
Traffic strategy #16: Tap into the power of influencers

Influencers are entrepreneurs, marketers, and people that have large reach within their social media channels. They may be well represented across multiple channels or they may simply dominate one channel (i.e. Instagram).
By building relationships with influencers, you gain the ability to put their voice behind you and your product/service.
When this happens, traffic flows to your site and you have the opportunity to convert them to real customers.
Create a list of 25 influencers in your industry. Watch their content for a couple of weeks and take note of what is most important to them.
Once you "know" them well enough, reach out with a personalized email touching on why you were attracted to their content, who you are, and that you're interested in setting up a time to network.
Try reaching out to them on their most active social media channel. Email will be tough.
This can quickly become one of your strongest traffic generation strategies if you build enough influencer relationships and have leading marketers behind your brand.
Traffic strategy #17: Build an interested email list

Email marketing has been around since Google created Gmail.
It's a cornerstone to any digital marketing strategy as it gives you a direct line of communication to your customers and to potential customers.
From the get go, choose an app like Mailchimp or Aweber or Constant Contact to manage your email subscriber list and email campaigns.
If you're using WordPress to build your site, add email list sign up forms directly onto your site using the email campaign manager you choose.
Or look to find a plugin like Thrive Leads where you can further customize the different types of forms that you use for adding more subscribers to your email list.
Building an email list and creating regular email content can be an amazing traffic generation strategy. There's a good chance it won't be your home run hitter, but it's an amazing way to build your community and get regular traffic to your site.
Traffic strategy #18: Target specific people with Facebook advertising
Facebook Advertising has become super popular over the past 3 years since Facebook has made it simpler for all of its users to easily advertise with a few clicks of the mouse.
With that said, it's not as easy as it looks and it takes a real Facebook ads expert to know how to properly create strong ad copy and graphics then target the best people for your business.
If you have the skills, amazing. If not, you can use a site like FreeeUp.com or GetCredo.com to find a qualified Facebook Ads expert to handle the campaigns and targeting for you.
There are many things that go into using Facebook Ads as one of your traffic generation strategies, but the keys are (1) strong and compelling copy (2) an enticing image that pulls the user in (3) a strong call to action.
It will take time to test, measure, and find the right type of ads and market for your business, but it can then become an amazing traffic generation source.
Traffic strategy #19: Retargeting campaigns with Facebook and Google
Similar to top-of-the-funnel Facebook advertising (as we just discussed), you can make sure that the people that visit your site keep seeing your brand and want to come back for more.
This is called retargeting. And it can be done through Facebook ads and Google Adwords.
It works like this.
If someone comes to your website from one of your other traffic generation strategies, you can set up a retargeting campaign on Facebook or Google so that you follow them around with ads.
They go to Facebook and are browsing their news feed, you're there advertising to them.
They go to somewhere on the Internet within Google's ad network reach and you are there advertising within the content trying to pull them back to your site.
Retargeting is an extremely costly advertising campaign to run that further warms leads and can lead to more traffic and more customers in your system.
Traffic strategy #20: Paid Adwords campaigns for high conversion keywords
If you want to try to target specific keywords that are privy to your business, but you don't want to wait the 6-9 months to climb your way up the SEO ranking ladder, you can tap into Google Adwords as a traffic generation strategy.
Similar to keyword research for SEO topics and article writing, you can research the keywords where your customers are searching most then go into Adwords and set up a campaign targeting that keyword.
Here's an example.
For my business, FreeeUp, we help business owners hire virtual assistants and freelancers to grow their business.
A big keyword for us is "hire a virtual assistant."
It's highly competitive and it's difficult for us to raise to the top of the Google rankings so that we are on the first page.
To skip past all of that SEO work, we could set up a campaign and pay for each person that clicks on our ad at the top of the page.
Ideally, your ad cost per customer is something that is reasonable given your business model. Otherwise, it wouldn't make sense.
Similar to Facebook advertising, Google Adwords is a complex skill set and requires years of experience and testing. If you're not the person for the job, find someone reliable that can handle it for you.
Traffic strategy #21: Publish viral video content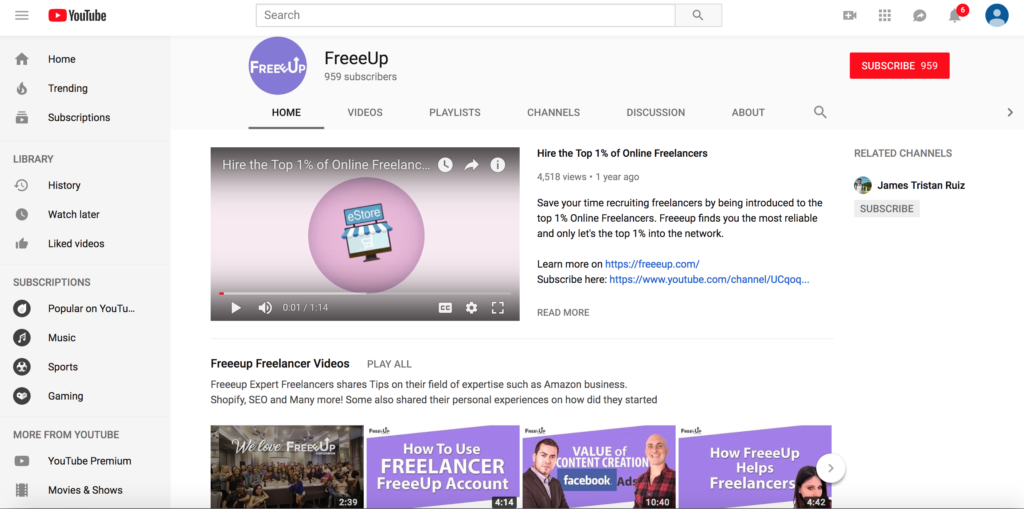 Video content is taking the Internet by storm and people on the Internet are loving it.
Look at Instagram…no need for text…it's all images and videos.
Youtube has been growing rapidly for 10+ years and it shows no signs of slowing down.
The younger generations are even using the Internet for their TV shows, entertainment, and learning new skills online.
Video will continue to dominate and you need to have it as a part of your traffic generation strategies.
The beauty of Youtube is that it is its own search engine…for videos.
Do your research, find some keywords that people are searching a lot in your industry, and start creating short, but catchy videos.
Over time, this could drive significant traffic to your website each month.
To create viral videos, you'll need a reliable video editing tool to enhance your footage, add effects, and make your content views-magnet.

Lightworks, iMovie, VEED, and OpenShot are some of the widely used video editing tools.
Look for one that suits your needs and offers functions like video background remover, audio converter, Instagram video downloader, and AI-powered features.
Traffic strategy #22: Network within your niche industry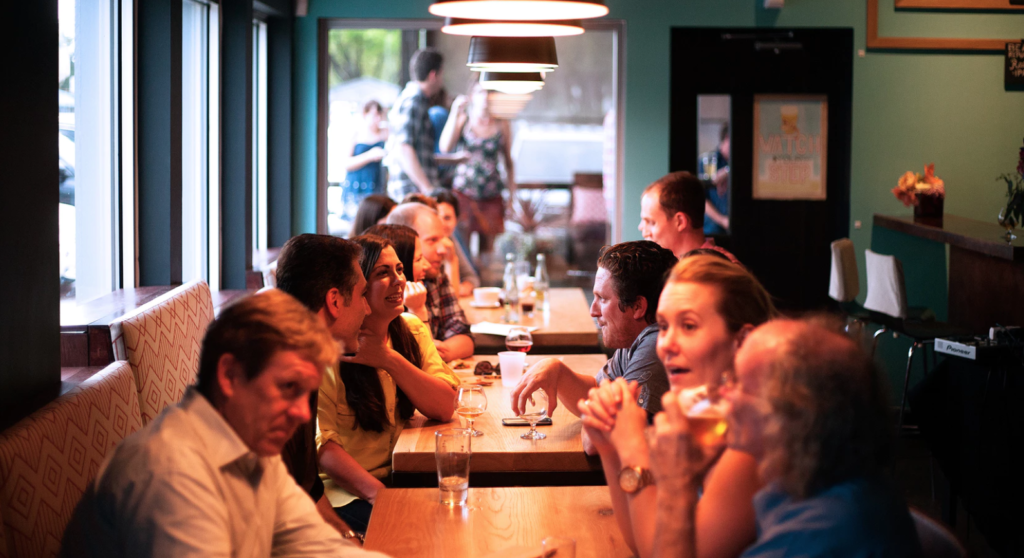 Networking, while an "old school" tactic, is still 100% relevant to driving new traffic to your website.
Whether you are going to local meetups, grabbing coffee with other entrepreneurs, reaching out to people on LinkedIn for a phone call, or attending industry conferences, networking has to be a part of your traffic playbook.
You never know when you're going to meet another entrepreneur or business owner that you click with.
When you find those types of relationships, it can lead to more connections in your network, a raving fan of you and your business, and a source of credibility for your business among their peer group.
Building a network is a tedious process and you must make sure that you go into it looking to add value to others before asking for anything in return, but if executed correctly, it can be an amazing part of your traffic generation strategies.
Traffic strategy #23: Build high-value review profiles
TrustPilot. Glassdoor. Angie's List. Better Business Bureau. Facebook. Yelp. Google reviews. G2 Crowd.
All of these are review sites where you should be representing your business and accumulating reviews consistently as you build your company.
As you build up profiles on these pages and get customers to leave positive reviews of working with you and your business, they quickly shoot up in Google's search rankings for your business.
They add SEO value to your main website domain.
And they are an amazing source of traffic as people that have never heard of you research to see if they should trust you.
Traffic strategy #24: Publish content on Medium
If you're already creating a regular stream of content for your audience via your site's blog, it's simple to get involved on Medium.com and publish your content there as well.
Medium is a platform uniting writers, publishers, and readers. It's a massive community of people who publish their content, get feedback from others, and where people can easily source content on specific topics.
Go to Medium, create a free account, add all the details about yourself, then publish each article to Medium that you publish to your blog.
Keep an eye out for people commenting on your articles and be as responsive as possible to further build your reputation on the platform.
Over time, this can be an amazing traffic generation strategy in your traffic playbook.
Traffic strategy #25: Offer your expertise on sites like Clarity
Clarity.fm is a website where entrepreneurs, experts, and mentors can create a profile and offer their time to younger entrepreneurs and startups seeking advice.
If you're an experienced entrepreneur or you have extensive knowledge on a certain topic, you can create an account for free and slowly build up reviews on the site.
Over time, you can build your presence within Clarity and it could lead to traffic back to your website as more and more people searching find your profile, see you are well reviewed, and want to see what company you're running.
Traffic strategy #26: Upgrade old content every 6 months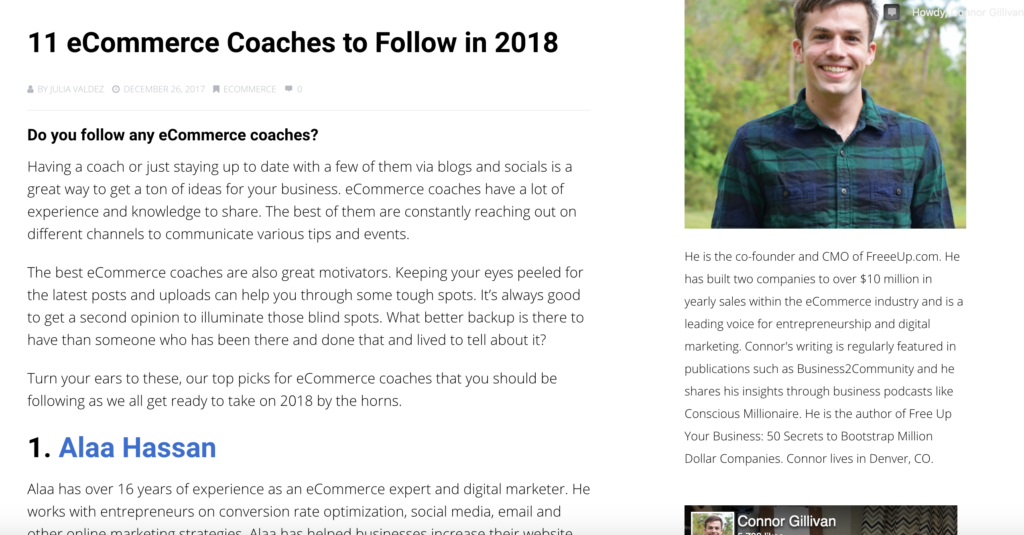 Once you get to the point where you've been creating consistent content for over 6 months, you'll want to set up a calendar where you go back and upgrade your most popular articles.
If you're using Google Analytics, you can easily identify the most popular articles of yours within the past 6 months by customizing a few of the charts that GA provides you.
Once you know the most popular articles in the past 6 months, choose 10 of them and slowly go into them, look for areas where you can update, add more useful links, and bring it up to speed with the current times.
By doing this upgrade to your most popular articles, you will make them even better than they were before and you'll also show Google that you care about this content and want to make it even more relevant for the people searching for it.
Over time, this can drive more traffic to your website through those given articles.
Traffic strategy #27: Brian Dean's Skyscraper technique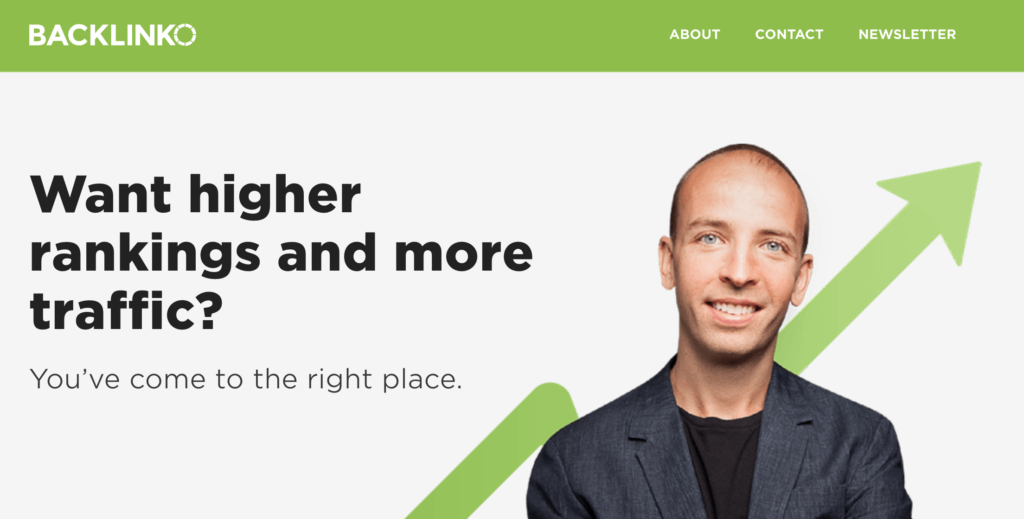 If you haven't heard of Brian Dean and Backlinko yet, give them a look. He's a leading traffic generation entrepreneur and I've learned a tremendous amount from his content that he regularly publishes.
One of Brian Dean's most well-known SEO strategies is called the "Skyscraper technique." I'll summarize how it works then you can find more about it here.
The basic concept behind the skyscraper technique is searching on Google for SEO search keywords where you want to be at the top of the first page.
Then, instead of just creating your own article, you look at the top 3 performing links. And you examine their articles. What is it that is making them the top of the search results.
Then you find a way to one-up the top results with your own article.
For example, if you search the keyword you want to rank for and the top article is 15 Ways to Drive Real Traffic to Your Website Fast, you may go out and create an article that is 99 Proven Ways to Drive More Traffic to Your Website Today.
See how you went from 15 to 99? That's a huge improvement over what is currently ranked first.
But, of course, great content doesn't just get you to the top of search rankings.
You then want to find all of the sites that are currently linking to the number one spot, find the right contact information for each source, then reach out to them showing the new and improved article that you created, and ask them if they'd be willing to link out to yours as well.
If you can master this and make it one of your traffic generation strategies, (1) you'd be able to impress Brian Dean (Woah!) and (2) you'd see regular traffic coming to your site on top keywords you want to target.
Traffic strategy #28: Publish your content on LinkedIn
Did you know that LinkedIn has its own publisher platform within their website? It's called LinkedIn Publishing.
And if you have your own LinkedIn profile, you can publish your content then share it out to all your friends and others reading content on the LinkedIn network.
Similar to publishing your content on Medium.com, add LinkedIn to your list when you publish new content.
People on LinkedIn are professionals looking for useful content that relates to their niche and industry. When you start publishing content on LinkedIn, people will look at you as a thought leader over time.
As you establish your voice as a thought leader, people will naturally go to your site to check it out and also look at other content that you're publishing.
Traffic strategy #29: Link internally from your content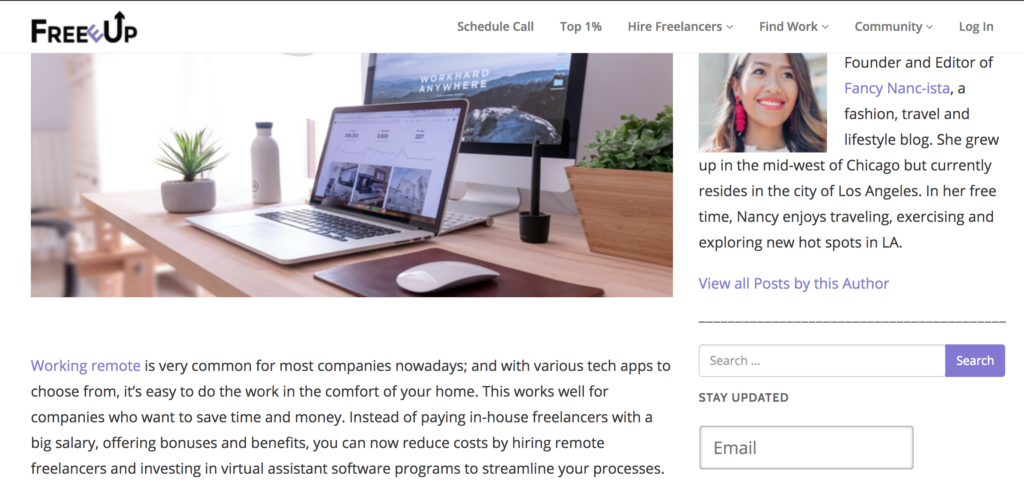 Think about when someone finds your content and goes to read it. They're of course there to read the specific content that interested them in clicking through in the first place, but should that be all you present them?
Of course not!
Once you have someone reading you article, it's important to reference other pages and articles within your site.
For example, in this article, I talk about 30 different ways that you can drive traffic to your website.
All 30 of these topics could be their own articles.
Once I have articles for all of these individual topics, it would be wise of me to link out to them at the bottom of each section showing you that you can learn more by looking at "this article."
When you link internally, you add more opportunities to drive more traffic, get more social likes, and create loyalty with your visitors.
Traffic strategy #30: Invite others to guest blog on your site
Finally, traffic generation strategy #30. Woo! We made it!
Once you have a blog up and running on your website and you're creating high-value content around a certain niche within your industry, you can start inviting other industry leaders to write guest articles for your site.
Why would you do this?
Well, as other entrepreneurs write guest articles for your blog, they will then share them with their community, they may link back to the article on the site, and it has the potential to grow into a deeper relationship over the long run.
Conclusion
Starting to see how you can utilize traffic generation strategies to build your business online?
And the beauty of it is that most of these 30 strategies are non-paid activities you can start implementing today.
As I said in the beginning of the article, it's taken me 3+ years to test 50+ traffic tactics and it's led me to this traffic playbook that is driving millions of views to my company's site, FreeeUp.com.
Take it one step at a time.
If you're completely new to traffic generation, choose 1 strategy and try it out for 1 month at a time. If you keep this up on a consistent basis, you'll slowly build out your own traffic playbook.
If you're already running a mature business and have people on your team that can help in the process, choose 5 to 10 strategies from this list, create processes for them, and get your team testing and measuring results.
Your goal should be to create consistent channels of traffic generation for your website.
I wish you the best of luck on your journey and would love to answer any questions that you have in the comments.
Did I forget any other traffic strategies? Comment any that you're having success with that I didn't mention!